Rowing in Upton

Upton Rowing Club is a small and friendly club based in the town of Upton-upon-Severn, Worcestershire.
The club is open to all ages and abilities, for both competition and recreation, from complete beginners through to experienced rowers.
‍
The club's boathouse is located at Upton Marina, and has a broad selection of boats for members of all abilities to use.
The boathouse also has racking facilities for members to store their own boats, subject to availability.

Upton Rowing Club has access to 16 unbroken miles of the River Severn between Worcester and Tewkesbury.

‍
Competitive, Recreational & Club Rowing
The Club has Mens, Womens and Mixed competitive crews which have been successful in Masters events at local, regional and national competitions. Coaching is available for club members who are interested in developing their rowing at whatever level whether recreational or competitive. For further information contact the Club Captain.

Upton crews compete throughout the year in British Rowing regattas.

Recreational crews regularly take to the water mid-week.
The club is also involved in recreational tours regionally, nationally and internationally.
Training
Upton Rowing Club History
Rowing at Upton has a long history – which is not surprising given the Severn's pre-eminence as a major transport artery going back for hundreds of years.  The precise date of the founding of the original Upton Rowing Club is not clear, but contemporary newspaper accounts show that it was a thriving club as early as the 1830s, and possibly even before then.  Here is a report from Berrows Journal from 16th July 1835 about a "Rowing Match" between Gloucester Union Club and Upton Rowing Club.

Rowing competition at that time took the form of challenge matches between particular crews or clubs, and often attracted the attention of the bookmakers as well as large numbers of spectators.`The following account describes a race between Upton's lightweight and heavyweight fours in 1836.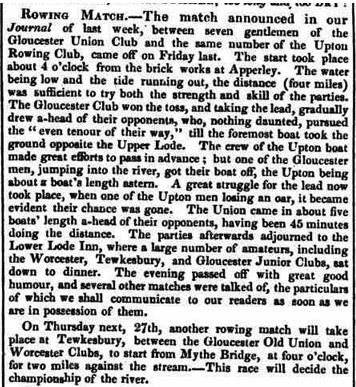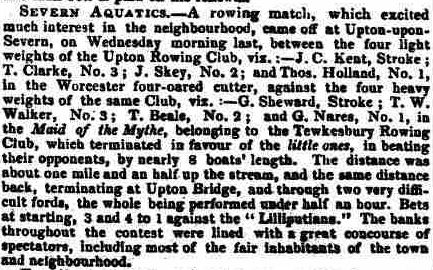 Some other races were over much longer courses.  In August 1835, Upton RC challenged an eight from Gloucester to a 61 mile race, the Gloucester crew having recently claimed the title of 'Champions of the Severn' over this distance, after completing it in just under 11½ hours.  The course was set to start at Upton and rowing upstream to Worcester, then downstream to Gloucester before turning back to finish at Upton once again.  Unfortunately, on the day only four Upton rowers were available, but they determined to take on the Gloucester eight nonetheless.
This was clearly going to be a one-sided contest, and the bookmakers offered odds of 10 to 1 against the Upton crew completing the course within 13 hours, but although the Gloucester eight came home first, the Upton four finished only 20 minutes behind them, in a time of 11 hours 50 minutes.

 Interestingly, the spirit of this unusual event lives on, because in recent years the club has occasionally organised a marathon event within the stretch of the Severn that is nowadays bounded by locks – racing from Upton down to Tewkesbury, then up to Worcester, then back down to Upton – a total of some 31 miles.
How long the original Upton Rowing Club continued to operate is obscure, but it was revived in the early 1990s by Steve Cox and Martin Harborne with the help of Colin Legge of Worcester Rowing Club and it secured its affiliation to the (then) Amateur Rowing Association in 1995.The inaugural meeting of the current club took place in August 1995.

Upton Marina has always been very supportive of the club. In the early months the few boats the club owned were hung off the marina fencing. Other clubs in the region were very generous in donating, or selling at a modest price, old boats and equipment to us. These included a wooden eight, a coxed four and a double scull from Derby RC. This boat we re-christened 'Derby and Joan'. The rapidly increasing fleet was stored on the grass at the end of the marina which was not very satisfactory. Fortunately Malvern Hills DC were at that time selling off their housing stock generating a fund dubbed the 'Malvern Millions'. Some of this money was being made available to local clubs to improve their facilities.

Not being shy and retiring types the club submitted a bid for funding of a new boat house. We were fortunate enough to have our application granted in 1997 allowing us to erect a steel framed structure. This act of generosity by our local council was key to the early development of the club for which we will always remain very grateful. With proper storage for boats now available we were able to expand our fleet with both new and good quality second-hand boats ranging from eights down to single sculls.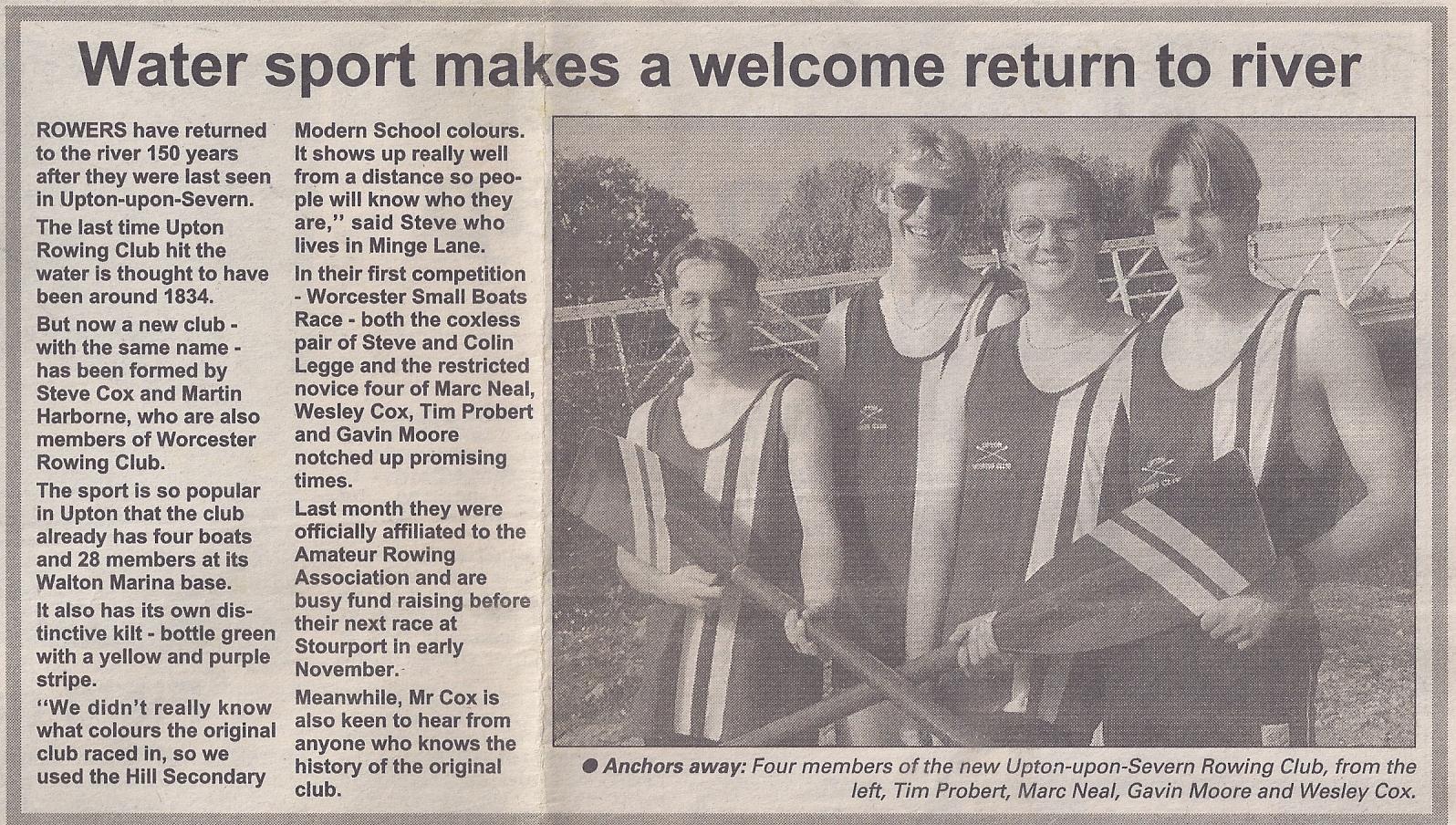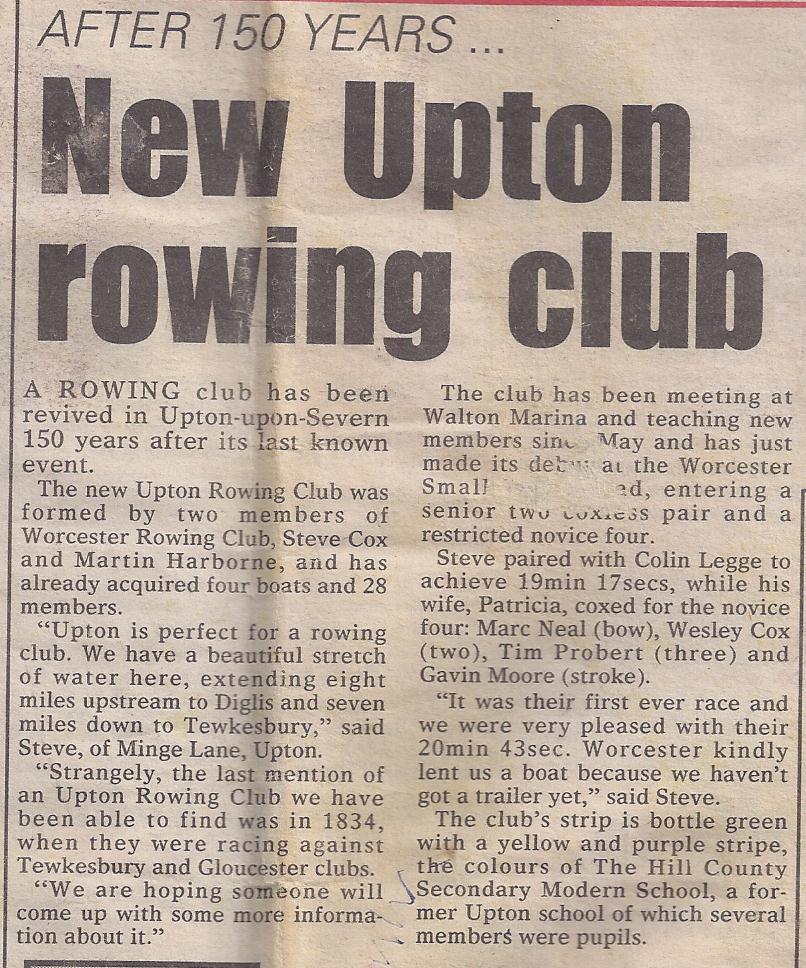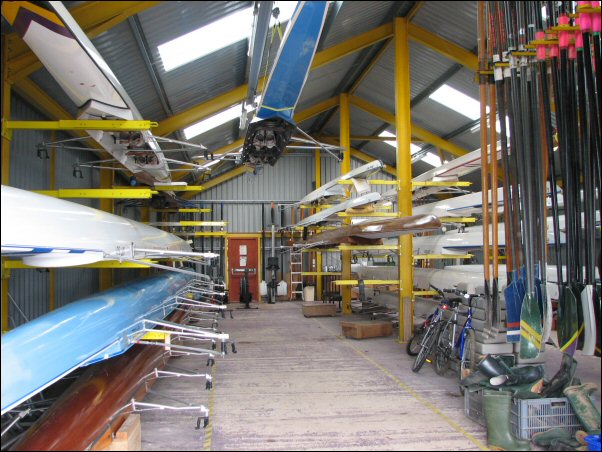 Membership of the club also grew rapidly. Many were keen to compete despite advancing years and a deficiency of rowing skills. Some of the early events entered were the Men's Head of the River in 1996 and a Vet Novice 4 who won a pot at Stourport Regatta also in 1997.

The club is open to everyone in the locality, of all ages and abilities, whether their rowing aspirations are competitive or recreational, and beginners are particularly welcome.  Among those who have chosen Upton as the place to dip their oars in the water for the first time is Zac Purchase, the Olympic gold and silver medallist and multiple world champion, who is an Honorary Vice-President of the club.